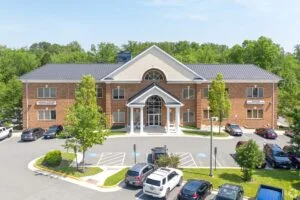 Conveniently located in historic Purcellville, Virginia, in Loudoun County, Parva Plastic Surgery is easily accessible from Washington, D.C, Maryland, Northern Virginia, Fairfax County, West Virginia, Pennsylvania, as well as points beyond, with Dulles International Airport only 24 miles away. Parva Plastic Surgery serves patients from all over the country.
Office Hours:
Monday – Thursday: 8:30am-5:00pm
Friday: 8:30am-1:00pm
On-Site Procedure Room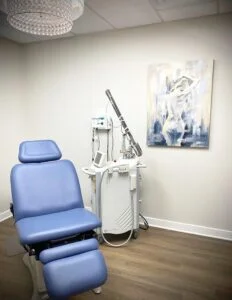 Our on-site procedure room is designed for your convenience, offering a totally safe, private and comfortable setting for minor out-patient procedures. The majority of our procedures are performed off-site at accredited surgery centers and hospitals staffed by board-certified anesthesiologists.
As part of your initial consultation, Dr. Parva—our board-certified plastic surgeon—will discuss with you the most appropriate location for the surgery or procedure you may choose. Your safety is our primary concern.
Directions to Parva Plastic Surgery
Surgery Facilities & Anesthesiology Groups
Inova Fair Oaks Hospital
3600 Joseph Siewick Drive
Fairfax, Virginia 22033
Phone: 703-391-3600
www.inova.org
Northern Virginia Surgical Center
3620 Joseph Siewick Drive, Suite 202
Fairfax, Virginia 22033
Phone: 703-766-6960
Fair Oaks Anesthesia Associates
3998 Fair Ridge Drive, Suite 320
Fairfax, Virginia 22033
Phone: 703-295-9360
Fax: 703-295-9369
Loudoun Anesthesia Associates
224-D Cornwall Street N.W., Suite 205
Leesburg, Virginia 20176
Phone: 571-291-3429
Fax: 571-291-3478
Point of Rocks Surgery Center
1901 Lockhouse Drive
Point of Rocks, Maryland 21777
Phone: 301-874-2211
Stone Springs Hospital
24440 Stone Springs Boulevard
Dulles, Virginia 20166
Phone: 571-349-4000
NOVA Surgery Center, LLC
20745 Williamsport Place, Suite 180
Ashburn, Virginia 20147
Phone: 703-574-2588
Reston Anesthesia
11341 Sunset Hills Road
Reston, Virginia 20190
Phone: 703-471-0919
Fax: 703-742-9081