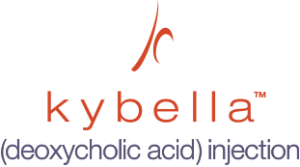 There are 3 main reasons we develop fat pockets under the chin: age, weight gain, and genetics. The problem is that there has been very little we can do short of liposuction until now. KYBELLA® is the first and only FDA-approved injectable for treatment of a "double chin" without surgery
Through a series of injections, KYBELLA® is able to reduce targeted "double chin" submental fat. The natural active ingredient in KYBELLA® causes the destruction of fat cells, which the body then absorbs the fat, resulting in improvements to the submental area. Patients typically need 2-4 treatments, which would be discussed and decided by Nancy Neiderer, RN. For KYBELLA® candidates that are not in need of a facelift for loose skin, treatments can be very effective and can render pleasing and long-lasting results.
Why Choose KYBELLA®?
KYBELLA® is non-surgical and minimally invasive
Minimal downtime
2-4 treatments are required and take about 30 minutes each
Improves the facial and neck profile
Reduces fat under the chin
Results appear as early as 3-4 weeks and often continue to improve for up to three to four months after final treatment
Who Would Benefit from KYBELLA®?
An initial consultation will be needed to evaluate your concerns and determine if KYBELLA® is the best treatment option. The best candidates for KYBELLA® generally have areas of fat beneath the chin and good skin elasticity. Because KYBELLA® can only treat fat volume, patients with loose skin may be better treated with a surgical procedure such as a face/neck lift. KYBELLA® should not be injected if there is an infection in the treatment area, if you've had any disease around the neck, if you are having trouble swallowing, or if you are pregnant or breastfeeding.

What to Expect During a KYBELLA® Procedure
Prior to receiving KYBELLA®, the under-chin area is numbed with topical anesthetic and ice. The under-chin area is then marked carefully and the injections take about 10-15 minutes to administer. There is a short period of discomfort during the treatment. Once the injections are complete, ice will be applied again to reduce any swelling or discomfort that may occur. Swelling is to be expected and mild bruising may result after treatment, but these symptoms should quickly diminish within a few days. Treatment may be repeated between 4-6 weeks to further enhance results. For most patients, the full results of KYBELLA® should be visible within a few months after the final treatment.
Contact Our Practice
For more information on KYBELLA®, contact Parva Plastic Surgery online or by phone at 703-777-7477 and schedule a complimentary cosmetic consultation today.
For your convenience, you may shop skin care products online here.