When considering breast augmentation or implant reconstruction surgery, one of the most important decisions women will make is choosing the type of breast implants that can most effectively achieve their desired outcomes with natural looking results. At our practice Dr. Parva offers an array of implant varieties, including both traditional silicone and saline styles. In addition, he offers anatomically shaped cohesive gel breast implants, which is an advanced implant option that often provides an exceptionally natural look and feel for many patients. During the initial consultation, Dr. Parva will present all available implants, thoroughly discussing the pros and cons of each type, size, and shape to help ensure you make the most informed decision for your unique needs and goals.
What Are My Breast Implant Options?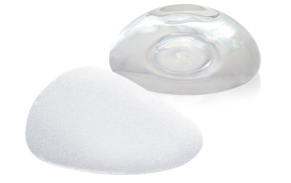 Breast implants are manufactured in a variety of types, shapes and sizes. When you meet with Dr. Parva for your initial consultation, he will assist you in the implant selection process by first performing a bio-dimensional analysis of your breast dimensions, which will then direct the best implant options for you. Another tool employed is the VECTRA® 3D imaging– a state-of-the-art system that enables patients to "try on" various implants and view a three dimensional photograph of realistic results that can potentially be achieved with different options. This advanced technology can help make choosing the right breast implants an easier, more comfortable decision.
The three main types of breast implant available at Parva Plastic Surgery include:
Saline Implants
Approved by the FDA, saline breast implants are composed of a saline (saltwater) solution encased by a silicone outer shell. If a saline implant ruptures, the body absorbs the fluid and excretes it. Available in a wide range of shapes and sizes, these implants have proved to be extremely effective for numerous patients over the years, helping many women enhance the appearance of their breasts with beautiful, natural-looking results.
Silicone Implants
Silicone breast implants are FDA approved for breast augmentation patients, as well as for breast reconstruction patients. Composed of a silicone outer shell filled with thick silicone gel, this type of implant comes in several shapes and sizes and is known for its extremely natural appearance and feel. They are now available in three different consistencies with a softer to a more firm feel. Silicone implants are generally less prone to rippling, and they can be particularly beneficial for individuals who have a thin body frame. Health concerns regarding the gel implants have been satisfied through extensive studies, and the FDA released the gel implants to the general public in November of 2006.
Anatomically Shaped Cohesive Gel Implants
Having been available in Europe for many years, anatomically shaped cohesive gel breast implants are now FDA approved for use by board certified plastic surgeons in the United States and are available when indicated for our patients. Presently, the FDA has approved Allergan (Natrelle® 410), Sientra® and Mentor® silicone gel implants. Also referred to as "form-stable" or "gummy bear" implants, this advanced implant option is composed of a thicker, durable silicone gel and designed in a teardrop shape that closely resembles the contour of a natural breast, helping to create a remarkably natural look for ideal candidates.
Anatomically shaped cohesive gel implants are generally composed of the most firm feeling gel material available due to additional crosslinking properties and thicker consistency of the silicone gel, both of which aid in their ability to better retain shape. The textured surface promotes adhesion to surrounding tissue to stabilize the position of the implant. However, shaped implants have the potential of rotation.
Ultimately, every type of implant has its unique advantage and disadvantages. Regardless of implant choice, women considering breast implants should consider the following:
Implants have a limited life span and will likely need to be replaced during a woman's lifetime
The most common adverse effect after breast implants is capsular contracture. This is a thickening of the scar tissue around the implant that causes firmness to the breast. This may require further surgery.
The quality of your skin, as well as the type of implant used, are factors that determine how easily the implants are felt through the skin and if there is a potential of seeing rippling of the skin.
What Are the Best Breast Implants for Me?
As noted above, women today have the options of silicone gel or saline implants. There are also options in choosing a round versus an anatomically shaped implant. There are certainly differences in these various implant options, but they also must be considered in association with a woman's skin and tissue qualities as well as their goals and expectations. It is critical to have a full and complete discussion and physical examination with a board certified plastic surgeon so that together you can pick the best option for your individual situation. The best option for your individual needs and goals will be discussed in full detail at the time of your consultation with Dr. Parva.
Breast Implants Placement: Over vs. Under the Muscle
Breast implants are placed behind the breast mound in order to add volume and projection to the existing breast. Placement of the implant may be behind the pectoralis major muscle or in front of that muscle. Among other factors, tissue thickness plays an important part in that decision so it is important that you have a physical exam and discuss this fully with your plastic surgeon.
Can I Breastfeed After Getting Breast Implants?
As with any procedure on the breast, there is a potential that placement of breast implants can impact future breast feeding. However, a more extensive procedure may increase the risk of potential impact on future breast feeding. Placement of breast implants alone, through an inframammary incision, basically involves approaching directly at the base of the breast and creating a space behind the breast with placement of the implant in that location. Practically speaking, this does not disrupt the breast ducts and breast gland, so it is less likely to affect breast feeding. However, women who have never breastfed may not even be aware that they may have trouble breast feeding because of their anatomy. Ultimately, it is important for women to understand that surgical procedures on the breast have the potential of affecting future breast feeding.
Do Breast Implants Interfere with Mammograms?
Radiologists are very experienced in obtaining and interpreting mammograms, even with the presence of breast implants. At the time of a mammogram, the mammography technician will confirm the presence of breast implants and, therefore, adjust their techniques. Some believe there are benefits to placement of an implant behind the muscle since the entire breast gland will then be directly in front of the implant. Often radiologists will also employ other diagnostic studies such as ultrasound or MRI if they deem it necessary to get a more comprehensive evaluation of the breast.
What is Breast Implant-Associated Anaplastic Large Cell Lymphoma (BIA-ALCL)?
Breast implant-associated anaplastic large cell lymphoma (BIA-ALCL) is a very rare type of lymphoma that can develop in the scar capsule near saline or silicone breast implants. This very rare disease is currently being investigated as to its relationship with breast implants. The category of ALCL is an extremely rare cancer of the immune system, which can occur anywhere in the body. Since the initial BIA-ALCL case report in 1996, approximately 186 cases have been reported in the United States and a total of 509 worldwide as of January 2018. To date, there are no reported cases of BIA-ALCL in patients exposed to only smooth devices. A new study from the Netherlands on BIA-ALCL published Jan. 4, 2018 in JAMA Oncology calculates the risk of developing the lymphoma at 1:6000 among women who have textured devices. Individual and lifetime risk of BIA-ALCL is currently under investigation
Schedule Your Consultation
To schedule a complimentary cosmetic consultation with Dr. Parva, our board-certified plastic surgeon, please contact us today.