Leesburg, VA Breast Augmentation Testimonial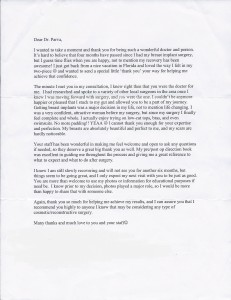 Dear Dr. Parva,
I wanted to take a moment and thank you for being such a wonderful doctor and person. It's hard to believe that four months have passed since I had my breast implant surgery, but I guess time flies when you are happy, not to mention my recovery has been awesome! I just got back from a nice vacation in Florida and loved the way I felt in my two-piece and wanted to send a special little "thank you" your way for helping me achieve that confidence.
The minute I met you in my consultation, I knew right then that you were the doctor for me. I had researched and spoke to a variety of other local surgeons in the area once I knew I was moving forward with surgery, and you were the one. I couldn't be any more happier or pleased that I stuck to my gut and allowed you to be a part of my journey. Getting breast implants was a major decision in my life, not to mention life changing. I feel complete and whole. I actually enjoy trying on low-cut tops, bras, and even swimsuits. No more padding!! YEAA I cannot thank you enough for your expertise and perfection. My breasts are absolutely beautiful and perfect to me, and my scars are hardly noticeable.
Your staff has been wonderful in making me feel welcome and open to ask any questions if needed, so they deserve great big thank you as well. My pre/post op direction book was excellent in guiding me throughout the process and giving me a great reference to what to expect and wheat to do after surgery.
I know I am still slowly recovering and will not see you for another six months, but things seem to be going great, and I only expect my next visit with you to be just as good. You are more than welcome to use my photos or information for educational purposes if need be. I know prior to my decision, photos played a major role, so I would be more than happy to share that with someone else.
Again, thank you so much for helping me achieve my results, and I can assure you that I recommend you highly to anyone I know that may be considering any type of cosmetic/reconstructive surgery.
Many thanks and much love to you and your staff