What Is the Difference Between Gynecomastia and Pseudogynecomastia?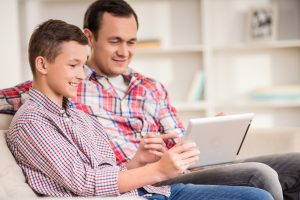 In some cases, the symptoms of gynecomastia may be misleading. Not all boys and men who have overly large breasts have true gynecomastia—a condition characterized by the development of excess glandular breast tissue. Some instances of overdeveloped breasts may be the result of accumulated fatty tissue instead. This condition, which in many ways mimics gynecomastia, is known as pseudogynecomastia.
Visiting a board-certified plastic surgeon and determining the cause of enlarged male breasts is essential for selecting the best treatment plan. For boys or men diagnosed with true gynecomastia, treatment will typically involve the excision of glandular breast tissue during male breast reduction surgery; for those diagnosed with pseudogynecomastia, liposuction is typically performed to eliminate the excess fat. Patients with mild to moderate pseudogynecomastia may also achieve success with exercises and weight loss programs.
It is important to note that many males with enlarged breasts will have a combination of both conditions. For these patients, both breast tissue excision and liposuction can be used to sculpt a more contoured, masculine-looking chest. Male breast reduction surgery also often provides patients with a boost in confidence in regard to their body image, helping to improve their overall quality of life.
For more information about the differences between gynecomastia and pseudogynecomastia, or if you would like to schedule a consultation with our board-certified plastic surgeon—Dr. Behzad Parva—please contact us today.
Previous Post
Next Post