Ashburn Plastic Surgeon Highlights Benefits of Breast Reduction Surgery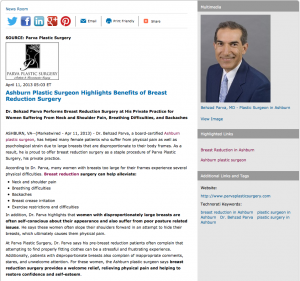 Dr. Behzad Parva performs breast reduction surgery at his private practice for women suffering from neck and shoulder pain, breathing difficulties, and backaches.
Ashburn, VA – Dr. Behzad Parva, a board-certified Ashburn plastic surgeon, has helped many female patients who suffer from physical pain as well as psychological strain due to large breasts that are disproportionate to their body frames. As a result, he is proud to offer breast reduction surgery as a staple procedure of Parva Plastic Surgery, his private practice.
According to Dr. Parva, many women with breasts too large for their frames experience several physical difficulties. Breast reduction surgery can help alleviate:
Neck and shoulder pain
Breathing difficulties
Backaches
Breast crease irritation
Exercise restrictions and difficulties
In addition, Dr. Parva highlights that women with disproportionately large breasts are often self-conscious about their appearance and also suffer from poor posture related issues. He says these women often slope their shoulders forward in an attempt to hide their breasts, which ultimately causes them physical pain.
At Parva Plastic Surgery, Dr. Parva says his pre-breast reduction patients often complain that attempting to find properly fitting clothes can be a stressful and frustrating experience. Additionally, patients with disproportionate breasts also complain of inappropriate comments, stares, and unwelcome attention. For these women, the Ashburn plastic surgeon says breast reduction surgery provides a welcome relief, relieving physical pain and helping to restore confidence and self-esteem.
In order to achieve the most effective results, Dr. Parva customizes his patients' breast reduction surgeries based on factors including breast size, asymmetries, and previous scarring. Once the patient's excess breast tissue is removed, he says the nipple position can be elevated and the breast reshaped to achieve balance and symmetry between both breasts and a more youthful, rejuvenated appearance.
As a testament to the benefits of breast reduction surgery, one of Dr. Parva's patients reported: "The pain in my upper mid shoulder blades is gone. I do not have the posture problem that was getting worse from constantly trying to find a comfortable position to sit or stand in. The size of my reconstructed breasts is in proportion to my body and makes me feel better about the way I look."
Following breast reduction surgery, Dr. Parva notes that his Leesburg and Ashburn plastic surgery patients typically require five to ten days to recover from the procedure. Most of these women return to work within several days but are encouraged to wear a supportive bra and avoid high impact activities for three to four weeks. Dr. Parva also highlights that breast reduction procedures are often covered by the patient's insurance carrier, depending on symptoms and the medical necessity of the surgery.
About Behzad Parva, MD
Dr. Behzad Parva is a graduate of Westminster College and earned his medical degree at the Temple University School of Medicine. He is board-certified by the American Board of Plastic Surgery and completed his Plastic Surgery Research Fellowship at the University of Pittsburgh. In addition to serving as the former president of the Loudoun County Medical Society, Dr. Parva also served as the former chairman of the Division of Plastic Surgery at INOVA Loudoun Hospital. Currently, Dr. Parva is on the medical staff at INOVA Loudoun Hospital, INOVA Fair Oaks Hospital, and Reston Hospital. He is available for interview upon request.
Previous Post
Next Post