Leesburg Plastic Surgeon Details Pregnancy's Long-Term Effects on the Body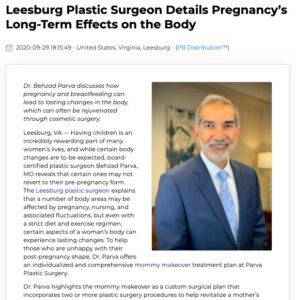 Dr. Behzad Parva discusses how pregnancy and breastfeeding can lead to lasting changes in the body, which can often be rejuvenated through cosmetic surgery.
Leesburg, VA — Having children is an incredibly rewarding part of many women's lives, and while certain body changes are to be expected, board-certified plastic surgeon Behzad Parva, MD reveals that certain ones may not revert to their pre-pregnancy form. The Leesburg plastic surgeon explains that a number of body areas may be affected by pregnancy, nursing, and associated fluctuations, but even with a strict diet and exercise regimen, certain aspects of a woman's body can experience lasting changes. To help those who are unhappy with their post-pregnancy shape, Dr. Parva offers an individualized and comprehensive mommy makeover treatment plan at Parva Plastic Surgery.
Dr. Parva highlights the mommy makeover as a custom surgical plan that incorporates two or more plastic surgery procedures to help revitalize a mother's body to the shape it was before having children. This may include breast augmentation, breast lift, or breast reduction surgery to address sagging breast tissue and potential volume depletion. He says tummy tuck surgery, or abdominoplasty, is one of the most common components of mommy makeover surgery, due to abdominal skin stretching during pregnancy and the abdominal muscles being prone to separation (known as diastasis recti). Dr. Parva explains that tummy tuck surgery, often combined with liposuction, can tighten lax skin, repair separated muscles, and reduce localized fat deposits for a more youthful, flatter midsection.
While some individuals are interested in restoring their pre-baby body soon after delivery, Dr. Parva says others choose to wait several years before considering cosmetic surgery. In general, Dr. Parva recommends patients wait at least six months after delivery to seek mommy makeover surgery to provide ample time for the body to heal and lose any weight gained during pregnancy. If a mother is breastfeeding, he advises they wait at least one month after ceasing to schedule their procedure.
For women considering cosmetic surgery to address unwanted changes caused by pregnancy, Dr. Parva urges them to consult with a plastic surgeon certified by the American Board of Plastic Surgery, who is experienced with performing mommy makeover procedures. By seeking a highly qualified surgeon and understanding the benefits and limitations of surgery, Dr. Parva says patients can not only make an informed decision about their health, but achieve a beautiful body transformation and boost in their self-confidence.
About Behzad Parva, MD
Dr. Parva offers a variety of cosmetic and reconstructive plastic surgery procedures at his private practice, Parva Plastic Surgery. He received his medical degree from Temple University School of Medicine, after which he completed his Plastic Surgery Residency at Indiana University Medical Center. Dr. Parva also completed a Plastic Surgery Research Fellowship at the University of Pittsburgh. In addition to helping patients at his practice, Dr. Parva participates in several medical associations, acting as a member of the American Society for Aesthetic Plastic Surgery, American Society of Plastic Surgeons, and Medical Society of Virginia. He is available for interview upon request.
To learn more, visit parvaplasticsurgery.com and facebook.com/parvaplasticsurgery.
Contact:
Parva Plastic Surgery
224-D Cornwall Street Northwest
#300
Leesburg, VA 20176
(703) 777-7477
Rosemont Media
(858) 200-0044
www.rosemontmedia.com
Previous Post
Next Post