Virginia Plastic Surgeon on Breast Reconstruction Awareness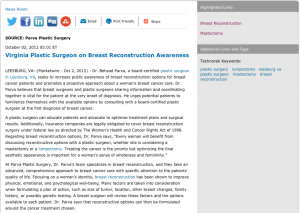 Leesburg, Virginia – Dr. Behzad Parva, a board-certified plastic surgeon in Leesburg, VA, seeks to increase public awareness of breast reconstruction options for breast cancer patients and promotes a proactive approach about a woman's breast cancer care. Dr. Parva believes that breast surgeons and plastic surgeons sharing information and coordinating together is vital for the patient at the very onset of diagnosis. He urges potential patients to familiarize themselves with the available options by consulting with a board-certified plastic surgeon at the first diagnosis of breast cancer.
A plastic surgeon can educate patients and advocate to optimize treatment plans and surgical results. Additionally, insurance companies are legally obligated to cover breast reconstruction surgery under federal law as directed by The Women's Health and Cancer Rights Act of 1998. Regarding breast reconstruction options, Dr. Parva says, "Every woman will benefit from discussing reconstructive options with a plastic surgeon, whether she is considering a mastectomy or a lumpectomy. Treating the cancer is the priority but optimizing the final aesthetic appearance is important for a woman's sense of wholeness and femininity."
At Parva Plastic Surgery, Dr. Parva's team specializes in breast reconstruction, and they take an advanced, comprehensive approach to breast cancer care with specific attention to the patients' quality of life. Focusing on a woman's identity, breast reconstruction has been shown to improve physical, emotional, and psychological well-being. Many factors are taken into consideration when formulating a plan of action, such as size of tumor, location, other breast changes, family history, or possibly genetic testing. A breast surgeon will review these factors and the options available to each patient. Dr. Parva says that reconstructive options can then be formulated around the cancer treatment chosen.
The Virginia plastic surgeon says that his practice sees more women who chose mastectomy over lumpectomy when the option is available. In fact, more women are opting to have a mastectomy of the other breast as well, in order to reduce their future risk of breast cancer and have greater peace of mind. Dr. Parva says, "The decision to choose lumpectomy or mastectomy is an individual choice based on contributing factors and each individual's priorities. Cancer treatment for cure, of course, is paramount. Yet, reconstructing one or both breasts is essential in truly addressing the needs of any woman undergoing the physical and emotional trials of breast cancer."
At his Virginia plastic surgery practice, Dr. Parva's goal is to make his patients feel whole, complete, and feminine again after breast reconstruction surgery. He stresses the importance of consulting with a board-certified plastic surgeon at the time of breast cancer diagnosis—whether doing it for one's self, a family member, or a friend. Potential patients may not be aware of the role of a plastic surgeon even when a lumpectomy is considered. Dr. Parva says any woman diagnosed with breast cancer should consult with a plastic surgeon to discuss reconstructive options regardless of whether she thinks she may have breast reconstruction or not, so she is fully informed and does not inadvertently limit surgical reconstructive options in the future:
"We see patients after a mastectomy or lumpectomy, sometimes many years later who want to revisit their reconstructive options. And they indeed have options, although sometimes more limited. With the present state of breast reconstruction, I encourage every woman newly diagnosed with breast cancer to see a board-certified plastic surgeon so she can be fully informed of her options in advance of any surgery. For these reasons we are excited that on October 17, 2012 the American Society of Plastic Surgeons launches the National BRA Day to promote education, raise funds for research and improve access to women that are eligible for post mastectomy breast reconstruction."
About Behzad Parva, MD
Dr. Behzad Parva, a board-certified plastic surgeon, is a graduate of Westminster College and received his medical degree from Temple University School of Medicine. He completed his General Surgery Residency at Temple University Hospital, his Plastic Surgery Residency at Indiana University Medical Center, and a Plastic Surgery Research Fellowship at the University of Pittsburgh. He is a past president of the Loudoun County Medical Society and a member of the Medical Society of Virginia. Dr. Parva also served as the past chairman of the Division of Plastic Surgery at INOVA Loudoun Hospital. He is on the medical staff at INOVA Loudoun Hospital, INOVA Fair Oaks Hospital, and Reston Hospital.
To contact Parva Plastic Surgery, visit the center's website at parvaplasticsurgery.com or call 703-777-7477. Their office is located at 224-D Cornwall Street Northwest #300, Leesburg, VA 20176. The center's Facebook page can be found at facebook.com/parvaplasticsurgery.
Previous Post
Next Post