Abdominoplasty & Filler Testimonial Leesburg VA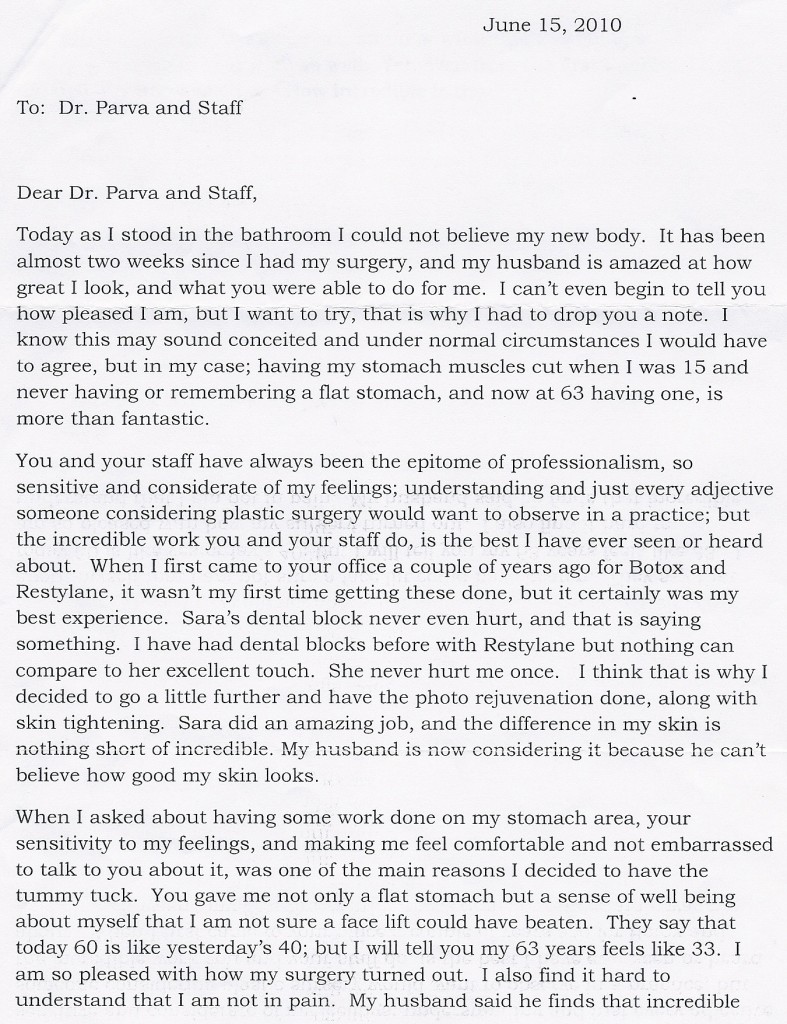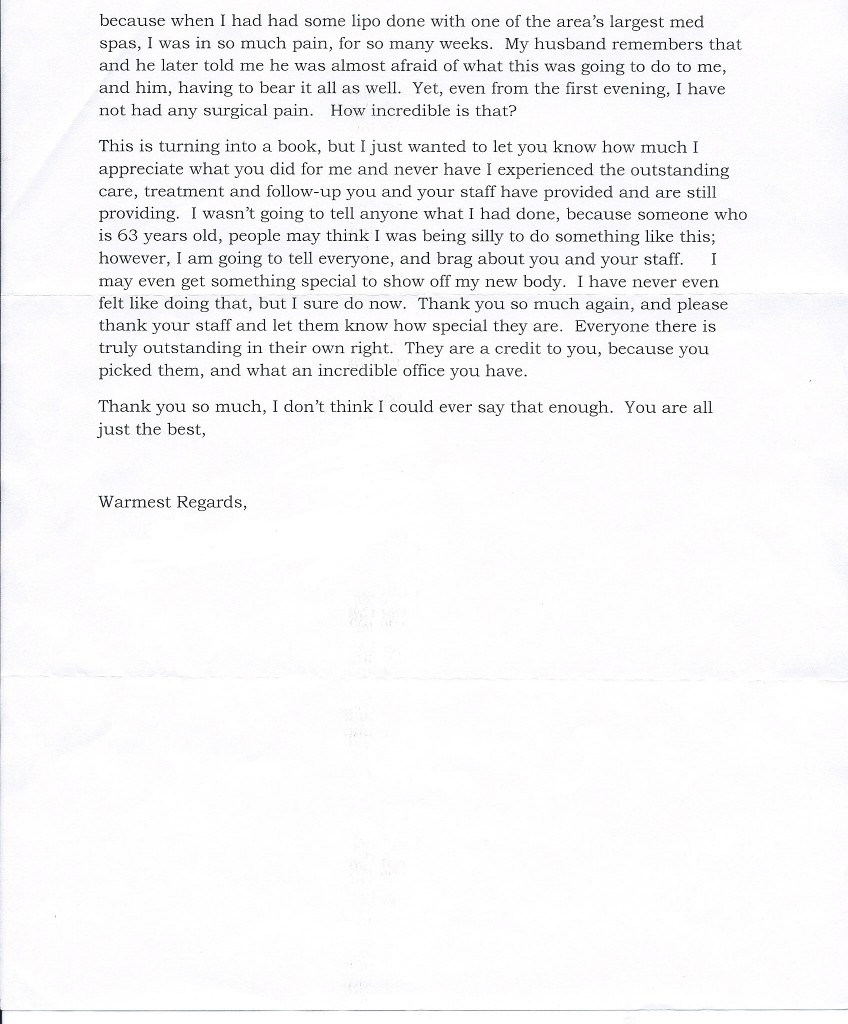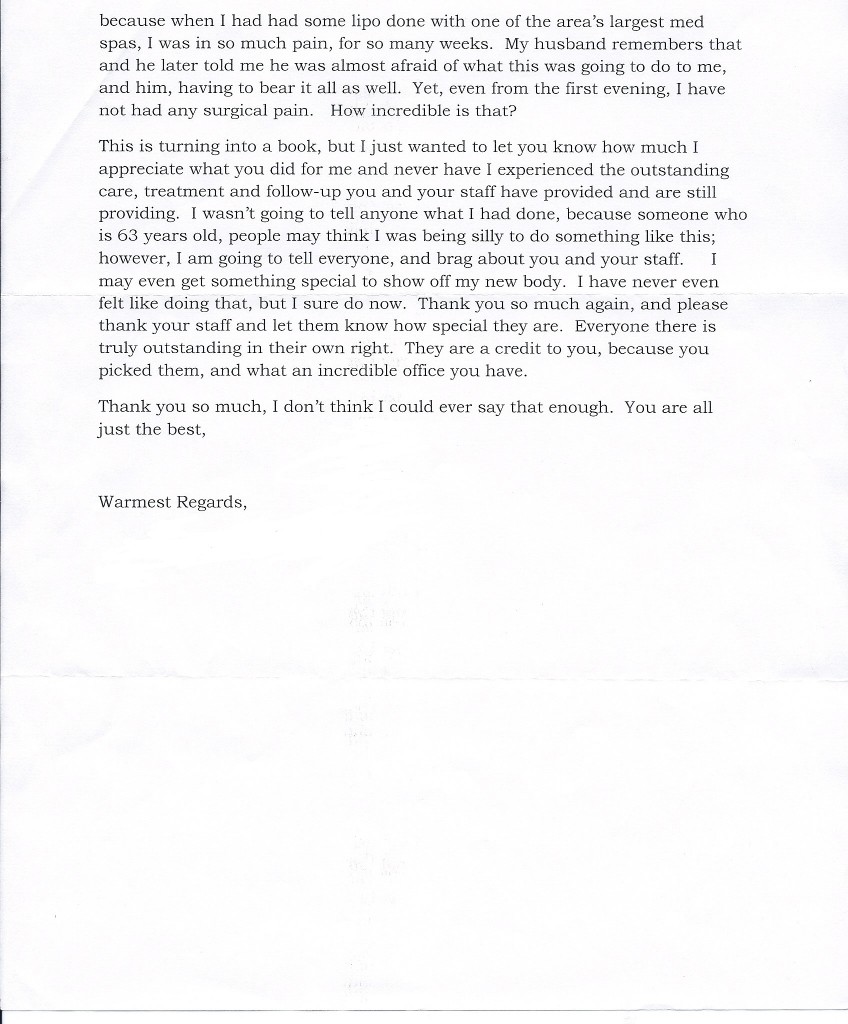 To: Dr. Parva and Staff
Today as I stood in the bathroom I could not believe my new body. It has been almost two weeks since I had my surgery, and my husband is amazed at how great I look, and what you were able to do for me. I can't even begin to tell you how pleased I am, but I want to try, that is why I had to drop you a not. I know this may sound conceited and under normal circumstances I would have to agree, but in my case; having my stomach muscles cut when I was 15 and never having or remembering a flat stomach, and now at 63 having one, is more than fantastic.
You and your staff have always been the epitome of professionalism, so sensitive and considerate of my feelings; understanding and just every adjective someone considering plastic surgery would want to observe in a practice but the incredible work you and your staff do, is the best I have ever seen or heard about. When I first came to your office a couple of years ago for Botox and Restylane, it wasn't my first time getting these done, but it certainly was my best experience. Sara's dental block never hurt me once. I think that is why I decided to go a little further and have the photo rejuvenation done, along with the skin tightening. Sara did an amazing job, and the difference in my skin is nothing short of incredible. My husband is now considering it because he can't believe how good my skin looks.
When I asked about having some work done on my stomach area, your sensitivity to my feelings, and making me feel comfortable and not embarrassed to talk to you about it, was one of the main reasons I decided to have the tummy tuck. You gave me not only a flat stomach but a sense of well being about myself that I am not sure a face lift could have beaten. They say that today 60 is like yesterday's 40′ but I will tell you my 63 years feels like 33. I am so pleased with how my surgery turned out. I also find it hard to understand that I am not in pain. My husband said he finds that incredible because when I had had some lipo done with one of the area's largest med spas, I was in so much pain, for so many weeks. My husband remembers that and he later told me he was almost afraid of what this was going to do to me, and him, having to bear it all as well. Yet, even from the first evening, I have not had any surgical pain. How incredible is that?
This is turning into a book, but I just wanted to let you know how much I appreciate what you did for me and never have I experienced the outstanding care, treatment and follow-up you and your staff have provided and are still providing. I wasn't going to tell anyone what I had done, because someone who is 63 years old, people may think I was being silly to do something like this; however, I am going to tell everyone, and brag about you and your staff. I may even get something special to show off my new body. I have never even felt like doing that, but I sure do now. Thank you so much again, and please thank your staff and let them know how special they are. Everyone there is truly outstanding in their own right. They are a credit to you, because you picked them, and what an incredible office you have.
Thank you so much, I don't think I could ever say that enough. You are all just the best,
Warmest Regards,