How Can I Get a Flat Tummy Again After Having Children?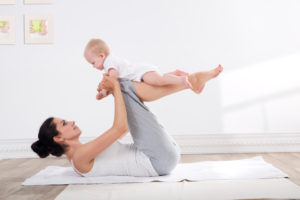 For many women, pregnancy and childbirth are some of the most precious times of their lives. These experiences, while fulfilling, can also cause lasting changes in the breasts and body. Residual fatty tissue, excess skin, and loose abdominal muscles are extremely common concerns following childbirth. Fortunately, there are several advanced cosmetic techniques that can help mothers restore a slimmer, more youthful-looking appearance, often with beautiful results.
Diastasis rectus is a condition in which the abdominal wall is stretched and becomes loose, typically as a result of the pregnancy process. This can create a "pooch" effect that often cannot be corrected with diet or exercise. Abdominoplasty, more commonly known as tummy tuck surgery, is designed to address this issue. During the procedure, muscles are tightened, excess skin is trimmed, and the tissue is re-draped for a slimmer, more aesthetically appealing look. In a Mommy Makeover, tummy tuck surgery can be combined with a breast lift (and/or another breast procedure) to achieve a more comprehensive cosmetic enhancement.
At my practice, I customize abdominoplasty and Mommy Makeover procedures to suit the unique needs and goals of each patient. In many cases, pregnancy can leave behind stubborn pockets of fatty tissue on the stomach, hips, thighs, or love handles. This is very common, and liposuction can typically be utilized to remove excess fat and to improve body contour.
Ultimately, all mothers should feel confident in their bodies. If you're dissatisfied with the changes in your appearance following pregnancy, I recommend speaking with an extensively trained and board certified plastic surgeon about your concerns and cosmetic goals. He or she should be able to develop and conduct a customized surgical plan that can help you achieve the results you desire.
Previous Post
Next Post