The Importance of Wearing a Proper-Fitting Bra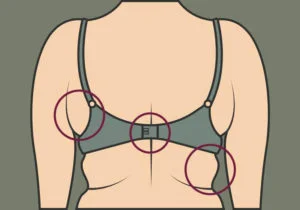 Proper-fitting bras can help women feel more confident, reduce premature breast sagging, reduce the deep creases and bulges around the chest, and prevent issues in the future. Research has shown that the majority of women are wearing the wrong bra size, which can lead to a variety of problems. Since bras do not have standardized sizing, the same size in one brand can be different in another, making it difficult to find a consistent size that provides optimal support.
Our board-certified plastic surgeon, Dr. Behzad Parva, helps women enhance their breast size and shape through a variety of procedures. Having performed numerous breast evaluations over the years, Dr. Parva has found that ill-fitting bras can contribute to many concerns women have about their breasts. Take a look at the following facts that many women may not realize about bra sizing.
Cup size and circumference should both be considered.
A proper-fitting bra should support the breasts primarily by the circumference. When this band is too loose, the straps are providing the support, which can lead to excess pressure on the shoulders. Many bra fitting professionals believe women should increase their cup size and decrease the circumference to find their ideal bra fit, but that is not always accurate. More commonly, women have too tight of a band which actually causes chronic or long-term issues. Dr. Behzad Parva suggests a broader band to distribute the pressure across the back and avoid narrow, tight bands.
Underwire bras are not always more supportive.
Bras with a built-in underwire are often assumed to be more supportive, but this is not always the case. While the wires help maintain the shape of the cups, a poor fit can lead to more damage than support. When the bra does not fit properly, or it has been altered from regular wear or laundering, the underwire can dig into the side of the breast, creating permanent scarring over time. This issue is also possible when the band around the body is too tight.
Tight bras can cause scarring, leading to an unwanted "bra roll."
Many patients express frustration with having a "roll" on their back beneath their bra or above their bra. They often inquire about liposuction to address this area, but unfortunately, liposuction cannot typically correct this concern. The "back roll" underneath the bra is usually caused by wearing tight bras over time. When this occurs, the tight band has actually created a scar that has become more defined. While many people believe having a tight band is necessary for support, wearing an overly tight bra can lead to additional problems. A wider, well-fitting band can distribute the pressure and reduce the creation of deep scar and banding.
Ill-fitting bras can lead to health problems.
In addition to being more aesthetically appealing, a proper-fitting bra can help women avoid a wide range of health concerns that can result from an overly tight or loose bra. For example, when an individual does not wear the appropriate bra size, this can affect their posture, cause shoulder pain, leave marks, and irritate the skin. In some cases the breasts may be overly large for the patient's frame, making them a good candidate for breast reduction surgery.
Although finding the perfect bra fit can seem complicated, it is an important step for feeling comfortable and confident, as well as maintaining a youthful breast position and body contour. For those unhappy with their breast appearance, even in a proper-fitting bra, please schedule a consultation with Dr. Parva to learn about breast enhancement options that may be beneficial.
Previous Post
Next Post