Leesburg Plastic Surgeon Highlights 5 Health Benefits of Tummy Tuck Surgery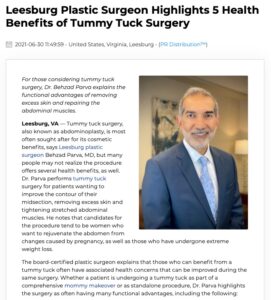 For those considering tummy tuck surgery, Dr. Behzad Parva explains the functional advantages of removing excess skin and repairing the abdominal muscles.
Leesburg, VA — Tummy tuck surgery, also known as abdominoplasty, is most often sought after for its cosmetic benefits, says Leesburg plastic surgeon Behzad Parva, MD, but many people may not realize the procedure offers several health benefits, as well. Dr. Parva performs tummy tuck surgery for patients wanting to improve the contour of their midsection, removing excess skin and tightening stretched abdominal muscles. He notes that candidates for the procedure tend to be women who want to rejuvenate the abdomen from changes caused by pregnancy, as well as those who have undergone extreme weight loss.
The board-certified plastic surgeon explains that those who can benefit from a tummy tuck often have associated health concerns that can be improved during the same surgery. Whether a patient is undergoing a tummy tuck as part of a comprehensive mommy makeover or as standalone procedure, Dr. Parva highlights the surgery as often having many functional advantages, including the following:
Repair Separated Muscles: During pregnancy the abdominal muscles are prone to stretching or separating. Surgical repair of this concern is frequently incorporated into a tummy tuck.
Correct Poor Posture: Many women find their posture has become significantly better after tummy tuck surgery, as a result of tightened muscles helping to support their core strength and spine.
Improve Back Pain: Certain types of back pain may be relieved after a tummy tuck, as the abdominal muscles are repaired and the spine has enhanced support, from the mechanically improved core muscles.
Treat Ventral Hernia: Ventral hernias can occur due to a weak abdominal wall and prior surgery. This can be corrected in conjunction with a tummy tuck.
While these benefits are all possible with tummy tuck surgery, Dr. Parva acknowledges they may not be realistic for all patients. He says any improvement in one's health ultimately comes down to what is causing their condition and whether tummy tuck surgery is able to address that cause.
To learn whether the procedure may be able to reduce a person's symptoms, like back pain or a hernia, Dr. Parva recommends men and women consult with a board-certified plastic surgeon. During this visit he says the physician can evaluate their health and determine whether tummy tuck surgery is the most appropriate treatment.
About Behzad Parva, MD
Dr. Parva performs a range of cosmetic and reconstructive procedures at Parva Plastic Surgery, including breast augmentation, breast reduction, tummy tuck surgery, and liposuction. He completed his medical degree at Temple University School of Medicine, followed by his Plastic Surgery Residency at Indiana University Medical Center and Plastic Surgery Research Fellowship at the University of Pittsburgh. Dr. Parva is a member of multiple professional organizations, including The Aesthetic Society (American Society for Aesthetic Plastic Surgery), American Society of Plastic Surgeons, and Medical Society of Virginia. He is available for interview upon request.
To learn more, visit parvaplasticsurgery.com and facebook.com/parvaplasticsurgery.
Contact:
Parva Plastic Surgery
224-D Cornwall Street Northwest
#300
Leesburg, VA 20176
(703) 777-7477
Rosemont Media
(800) 491-8623
www.rosemontmedia.com
Previous Post
Next Post