What if I Get a Cold Before My Plastic Surgery Procedure?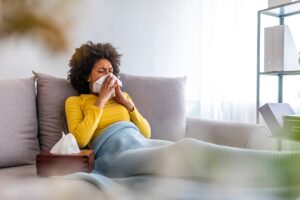 Many people opt to undergo plastic surgery during the winter and spring months, since this typically offers enough time to recover before the busy summer months arrive. Unfortunately, this is also the end of the cold and flu season, which can make patients nervous when they have surgery scheduled. The decision of whether or not your cosmetic surgery will need to be postponed due to sickness will be determined on a case-by-case basis. 
In general, if you have mild cold symptoms, you most likely will not need to cancel your surgery date. However, if you have a cosmetic procedure scheduled at Parva Plastic Surgery, the best way for you to know is to contact our office so one of our clinical staff can discuss your symptoms. A mild sore throat or runny nose are typically not cause for concern, but swollen tonsils or a sinus infection are usually signs that you will need to reschedule your surgery. In addition, a mild cough isn't necessarily an issue, but a more persistent cough can cause strain and additional pain if you are undergoing a procedure like breast augmentation or tummy tuck surgery.
Since the COVID-19 pandemic is still in effect, this adds another layer to consider before deciding whether you are well enough to undergo surgery. If you have any cold or flu-like symptoms—such as moderate-to-severe throat soreness, sinus congestion, or a fever—your surgery will likely be rescheduled until symptoms subside. Patients will be required to get tested for COVID-19 to ensure they do not have this highly contagious coronavirus. This is for your safety, as well as the health of our staff and other patients. 
Our goal at Parva Plastic Surgery is to help you achieve your aesthetic goals through the safest means possible. With this in mind, we may recommend you postpone your procedure until you are feeling better, as this can reduce your risk of related complications and help you feel more comfortable throughout your recovery.
If you have any questions about the timeline of your cosmetic surgery, please contact us and a member of our team will help you determine the best way to move forward.
Previous Post
Next Post