Loudoun County Plastic Surgeon Clarifies Distinctions Between Tummy Tuck, Liposuction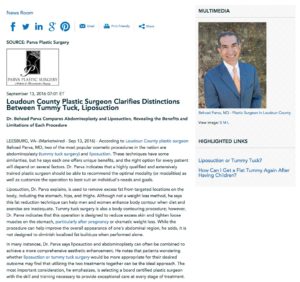 Dr. Behzad Parva compares abdominoplasty and liposuction, revealing the benefits and limitations of each procedure.
Leesburg, VA — According to Loudoun County plastic surgeon Behzad Parva, MD, two of the most popular cosmetic procedures in the nation are abdominoplasty (tummy tuck surgery) and liposuction. These techniques have some similarities, but he says each one offers unique benefits, and the right option for every patient will depend on several factors. Dr. Parva indicates that a highly qualified and extensively trained plastic surgeon should be able to recommend the optimal modality (or modalities) as well as customize the operation to best suit an individual's needs and goals.
Liposuction, Dr. Parva explains, is used to remove excess fat from targeted locations on the body, including the stomach, hips, and thighs. Although not a weight loss method, he says this fat reduction technique can help men and women enhance body contour when diet and exercise are inadequate. Tummy tuck surgery is also a body contouring procedure; however, Dr. Parva indicates that this operation is designed to reduce excess skin and tighten loose muscles on the stomach, particularly after pregnancy or dramatic weight loss. While the procedure can help improve the overall appearance of one's abdominal region, he adds, it is not designed to diminish localized fat buildups when performed alone.
In many instances, Dr. Parva says liposuction and abdominoplasty can often be combined to achieve a more comprehensive aesthetic enhancement. He notes that patients wondering whether liposuction or tummy tuck surgery would be more appropriate for their desired outcome may find that utilizing the two treatments together can be the ideal approach. The most important consideration, he emphasizes, is selecting a board certified plastic surgeon with the skill and training necessary to provide exceptional care at every stage of treatment.
About Behzad Parva, MD
Dr. Parva is a board-certified and fellowship-trained plastic surgeon practicing in Leesburg, VA. A Magna Cum Laude graduate of Westminster College, he earned his medical degree from Temple University School of Medicine, where he graduated in the top 10 percent of his class. He completed additional medical training at Temple University Hospital, Indiana University Medical Center, and the University of Pittsburgh. Dr. Parva is a member of several esteemed medical associations, including the American Society of Plastic Surgeons (ASPS) and the American Society for Aesthetic Plastic Surgery (ASAPS). He is available for interview upon request.
For more information about Dr. Parva and his practice, please visit parvaplasticsurgery.com and facebook.com/parvaplasticsurgery.
Contact:
Parva Plastic Surgery
224-D Cornwall Street Northwest
#300
Leesburg, VA 20176
(703) 777-7477
Rosemont Media
(858) 200-0044
www.rosemontmedia.com
Previous Post
Next Post