Loudoun County Plastic Surgeon Emphasizes Importance of ABPS Board Certification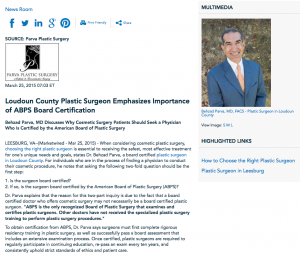 Behzad Parva, MD discusses why cosmetic surgery patients should seek a physician who is certified by the American Board of Plastic Surgery.
Leesburg, VA — When considering cosmetic plastic surgery, choosing the right plastic surgeon is essential to receiving the safest, most effective treatment for one's unique needs and goals, states Dr. Behzad Parva, a board certified plastic surgeon in Loudoun County. For individuals who are in the process of finding a physician to conduct their cosmetic procedure, he notes that asking the following two-fold question should be the first step:
Is the surgeon board certified?
If so, is the surgeon board certified by the American Board of Plastic Surgery (ABPS)?
Dr. Parva explains that the reason for this two-part inquiry is due to the fact that a board certified doctor who offers cosmetic surgery may not necessarily be a board certified plastic surgeon. "ABPS is the only recognized Board of Plastic Surgery that examines and certifies plastic surgeons. Other doctors have not received the specialized plastic surgery training to perform plastic surgery procedures."
To obtain certification from ABPS, Dr. Parva says surgeons must first complete rigorous residency training in plastic surgery, as well as successfully pass a board assessment that includes an extensive examination process. Once certified, plastic surgeons are required to regularly participate in continuing education, re-pass an exam every ten years, and consistently uphold strict standards of ethics and patient care.
"Ultimately," notes Dr. Parva, "while many elements should be factored into the final decision of choosing the right plastic surgeon – such as reputation, bedside manner, special expertise, etc. – certification by the American Board of Plastic Surgery can indicate the prospective surgeon has the appropriate experience and credentials to provide the highest quality of treatment and results."
About Behzad Parva, MD, FACS
Dr. Parva is certified by the American Board of Plastic Surgery. After graduating Magna Cum Laude from Westminster College, he obtained his medical degree from Temple University School of Medicine. He then completed his Residency in General Surgery at Temple University Hospital, followed by his Residency in Plastic Surgery at Indiana University Medical Center. In addition to being a Fellow of the American College of Surgeons, he is an active member of both the American Society of Plastic Surgeons and the American Society for Aesthetic Plastic Surgery.
At Parva Plastic Surgery, Dr. Parva offers a comprehensive span of treatments and procedures ranging from breast augmentation and mastopexy to abdominoplasty and mommy makeovers. Additionally, he provides several options for women who have been diagnosed with breast cancer, including breast reconstruction following lumpectomy or mastectomy.
To learn more, visit parvaplasticsurgery.com, facebook.com/parvaplasticsurgery, and plus.google.com/108633040038039769744/about.
Contact:
Parva Plastic Surgery
224-D Cornwall Street Northwest
#300
Leesburg, VA 20176
(703) 777-7477
Rosemont Media
(858) 200-0044
www.rosemontmedia.com
Previous Post
Next Post