Loudoun County Plastic Surgeon Offers Preventative Breast Cancer Advice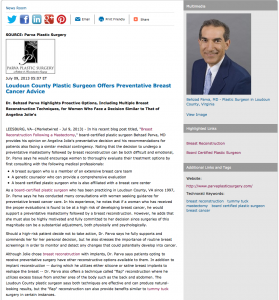 Dr. Behzad Parva highlights proactive options, including multiple breast reconstruction techniques, for women who face a decision similar to that of Angelina Jolie's.
Leesburg, VA — In his recent blog post titled, "Breast Reconstruction Following a Mastectomy," board-certified plastic surgeon Behzad Parva, MD provides his opinion on Angelina Jolie's preventative decision and his recommendations for patients also facing a similar medical contingency. Noting that the decision to undergo a preventative mastectomy followed by breast reconstruction can be both difficult and emotional, Dr. Parva says he would encourage women to thoroughly evaluate their treatment options by first consulting with the following medical professionals:
A breast surgeon who is a member of an extensive breast care team
A genetic counselor who can provide a comprehensive evaluation
A board-certified plastic surgeon who is also affiliated with a breast care center
As a board-certified plastic surgeon who has been practicing in Loudoun County, VA since 1997, Dr. Parva says he has conducted many consultations with women seeking guidance for preventative breast cancer care. In his experience, he notes that if a woman who has received the proper evaluations is found to be at a high risk of developing breast cancer, he would support a preventative mastectomy followed by a breast reconstruction. However, he adds that she must also be highly motivated and fully committed to her decision since surgeries of this magnitude can be a substantial adjustment, both physically and psychologically.
Should a high-risk patient decide not to take action, Dr. Parva says he fully supports and commends her for her personal decision, but he also stresses the importance of routine breast screenings in order to monitor and detect any changes that could potentially develop into cancer.
Although Jolie chose breast reconstruction with implants, Dr. Parva says patients opting to receive preventative surgery have other reconstructive options available to them. In addition to implant reconstruction – during which he utilizes either silicone or saline breast implants to reshape the breast – Dr. Parva also offers a technique called "flap" reconstruction where he utilizes excess tissue from another area of the body such as the back and abdomen. The Loudoun County plastic surgeon says both techniques are effective and can produce natural-looking results, but the "flap" reconstruction can also provide benefits similar to tummy tuck surgery in certain instances.
As Angelina Jolie shares her personal story, Dr. Parva says he respects her for her decision and believes she made the right choice for herself. Furthermore, he adds that he hopes the publicity of her story will continue to increase breast cancer awareness and encourage more women to fully evaluate all of their medical care options.
About Behzad Parva, MD
A Magna Cum Laude graduate of Westminster College, Dr. Behzad Parva earned his medical degree from Temple University School of Medicine. He is board-certified by the American Board of Plastic Surgery and is on the medical staff at INOVA Loudoun Hospital, INOVA Fair Oaks Hospital, and Reston Hospital. He also performs cosmetic and reconstructive surgery at Loudoun Ambulatory Surgery Center, Northern Virginia Surgery Center, and Reston Surgery Center. Dr. Parva is available for interview upon request.
Previous Post
Next Post