Virginia Plastic Surgeon Offers Enhanced Plastic Surgery Resource with New Responsive Mobile Website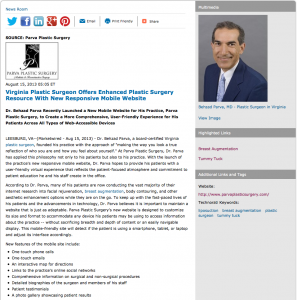 Dr. Behzad Parva recently launched a new mobile website for his practice, Parva Plastic Surgery, to create a more comprehensive, user-friendly experience for his patients across all types of web-accessible devices.
Leesburg, VA – Dr. Behzad Parva, a board-certified Virginia plastic surgeon, founded his practice with the approach of "making the way you look a true reflection of who you are and how you feel about yourself." At Parva Plastic Surgery, Dr. Parva has applied this philosophy not only to his patients but also to his practice. With the launch of the practice's new responsive mobile website, Dr. Parva hopes to provide his patients with a user-friendly virtual experience that reflects the patient-focused atmosphere and commitment to patient education he and his staff create in the office.
According to Dr. Parva, many of his patients are now conducting the vast majority of their internet research into facial rejuvenation, breast augmentation, body contouring, and other aesthetic enhancement options while they are on the go. To keep up with the fast-paced lives of his patients and the advancements in technology, Dr. Parva believes it is important to maintain a website that is just as adaptable. Parva Plastic Surgery's new website is designed to customize its size and format to accommodate any device his patients may be using to access information about the practice – without sacrificing breadth and depth of content or an easily navigable display. This mobile-friendly site will detect if the patient is using a smartphone, tablet, or laptop and adjust its interface accordingly.
New features of the mobile site include:
One-touch phone calls
One-touch emails
An interactive map for directions
Links to the practice's online social networks
Comprehensive information on surgical and non-surgical procedures
Detailed biographies of the surgeon and members of his staff
Patient testimonials
A photo gallery showcasing patient results
Dr. Parva believes that patient education is a key component to successful cosmetic results. When patients enter Parva Plastic Surgery having already completed some preliminary research on their own, he says they are often better able to articulate any questions they might have as well as specify the results they are hoping to achieve. The plastic surgery practice's new mobile website will make this information more convenient to access for Dr. Parva's patients and, he says, ultimately lead to an increase in the quality of doctor-patient communication during the consultation process.
Dr. Parva believes choosing the right plastic surgeon is also a vital component to attaining one's desired results. He recommends that all potential plastic surgery and cosmetic enhancement patients carefully research medical providers before deciding on a surgeon. He highlights that doctors certified by the American Board of Plastic Surgery undergo specific training for procedures such as breast augmentation, tummy tuck, eyelid surgery, liposuction, and many others. Dr. Parva notes that these board-certified plastic surgeons have additional education and expertise in the field of cosmetic enhancement, which can yield a higher-quality patient experience.
About Behzad Parva, MD
Dr. Parva is board-certified by the American Board of Plastic Surgery. He is a graduate of Westminster College and earned his medical degree from Temple University School of Medicine, ranking in the top 10% of his class. He completed his General Surgery Residency at Temple University Hospital, followed by his Plastic Surgery Residency at Indiana University Medical Center and a Research Fellowship in Plastic Surgery at the University of Pittsburgh. Dr. Parva serves on the medical staff at INOVA Loudoun Hospital, INOVA Fair Oaks Hospital, and Reston Hospital. Dr. Parva is available for interview upon request.
For more information about Dr. Parva and his Virginia plastic surgery practice, visit parvaplasticsurgery.com and facebook.com/parvaplasticsurgery.
Contact:
Parva Plastic Surgery
224-D Cornwall Street Northwest
#300
Leesburg, VA 20176
(703) 777-7477
Rosemont Media
[email protected]
(858) 200-0044
www.rosemontmedia.com
Previous Post
Next Post