Loudoun County Plastic Surgeon Reveals Benefits of Anatomically Shaped Cohesive Gel Breast Implants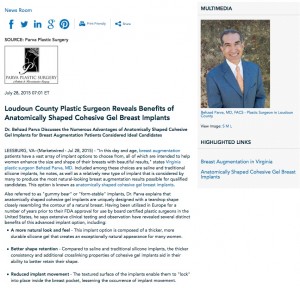 Dr. Behzad Parva discusses the numerous advantages of anatomically shaped cohesive gel implants for breast augmentation patients considered ideal candidates.
Leesburg, VA — "In this day and age, breast augmentation patients have a vast array of implant options to choose from, all of which are intended to help women enhance the size and shape of their breasts with beautiful results," states Virginia plastic surgeon Behzad Parva, MD. Included among these choices are saline and traditional silicone implants, he notes, as well as a relatively new type of implant that is considered by many to produce the most natural-looking breast augmentation results possible for qualified candidates. This option is known as anatomically shaped cohesive gel breast implants.
Also referred to as "gummy bear" or "form-stable" implants, Dr. Parva explains that anatomically shaped cohesive gel implants are uniquely designed with a teardrop shape closely resembling the contour of a natural breast. Having been utilized in Europe for a number of years prior to their FDA approval for use by board certified plastic surgeons in the United States, he says extensive clinical testing and observation have revealed several distinct benefits of this advanced implant option, including:
A more natural look and feel – This implant option is composed of a thicker, more durable silicone gel that creates an exceptionally natural appearance for many women.
Better shape retention – Compared to saline and traditional silicone implants, the thicker consistency and additional crosslinking properties of cohesive gel implants aid in their ability to better retain their shape.
Reduced implant movement – The textured surface of the implants enable them to "lock" into place inside the breast pocket, lessening the occurrence of implant movement.
Diminished chance of rippling and leakage – The strong cohesion of the silicone gel can reduce rippling, as well as minimize the risk of implant leakage in the unusual case of a rupture.
Decreased risk of capsular contracture – Some studies show that cohesive gel implants have diminished rates of capsular contracture, which is the formation of scar tissue around the implant that can lead to a hardened feel.
Currently, Dr. Parva says the FDA has approved certain anatomically shaped cohesive gel implants manufactured by Sientra®, Mentor® and Allergan. Like other types of breast implants, he adds that these advanced options come in a vast number of sizes to meet each patient's unique desires.
Ultimately, despite their numerous benefits, Dr. Parva states that anatomically shaped cohesive gel implants may not be the best implant option for every woman seeking breast augmentation. In fact, some people may be able to achieve more satisfactory results with saline or traditional silicone implants. For this reason, he says it is imperative that prospective patients consult with a board certified plastic surgeon who can properly advise them based on their individual needs and goals.
About Behzad Parva, MD, FACS
After earning his medical degree and graduating in the top 10% of his class at Temple University School of Medicine, Dr. Parva completed his General and Plastic Surgery Residencies at Temple University Hospital and Indiana University Medical Center, respectively. Certified by the American Board of Plastic Surgery, he is renowned for his skill and expertise in cosmetic surgery of the breasts, body and face. He is also highly proficient in breast reconstruction following mastectomy or lumpectomy. Above all, Dr. Parva is devoted to ensuring every patient achieves excellent outcomes through the safest, most ethical care possible.
For more information, visit parvaplasticsurgery.com, facebook.com/parvaplasticsurgery, and plus.google.com/108633040038039769744/about. Dr. Parva is available for interview upon request.
Contact:
Parva Plastic Surgery
224-D Cornwall Street Northwest
#300
Leesburg, VA 20176
(703) 777-7477
Rosemont Media
(858) 200-0044
www.rosemontmedia.com
Previous Post
Next Post