Parva Plastic Surgery Adds New Registered Nurse to Enhance Patient Care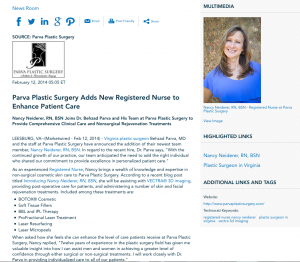 Nancy Neiderer, RN, BSN joins Dr. Behzad Parva and his team at Parva Plastic Surgery to provide comprehensive clinical care and nonsurgical rejuvenation treatments.
Leesburg, VA — Virginia plastic surgeon Behzad Parva, MD and the staff at Parva Plastic Surgery have announced the addition of their newest team member, Nancy Neiderer, RN, BSN. In regard to the recent hire, Dr. Parva says, "With the continued growth of our practice, our team anticipated the need to add the right individual who shared our commitment to provide excellence in personalized patient care."
As an experienced Registered Nurse, Nancy brings a wealth of knowledge and expertise in non-surgical cosmetic skin care to Parva Plastic Surgery. According to a recent blog post titled Introducing Nancy Neiderer, RN, BSN, she will be assisting with VECTRA® 3D imaging, providing post-operative care for patients, and administering a number of skin and facial rejuvenation treatments. Included among these treatments are:
BOTOX® Cosmetic
Soft Tissue Fillers
BBL and IPL Therapy
ProFractional Laser Treatment
Laser Resurfacing
Laser Micropeels
When asked how she feels she can enhance the level of care patients receive at Parva Plastic Surgery, Nancy replied, "Twelve years of experience in the plastic surgery field has given me valuable insight into how I can assist men and women in achieving a greater level of confidence through either surgical or non-surgical treatments. I will work closely with Dr. Parva in providing individualized care to all of our patients."
Asked the same question, Dr. Parva responded, "Nancy has a broad range of experience in patient care, specifically in plastic surgery. Even more importantly, she is a genuinely caring person. From post-surgical care of patients to direct non-surgical treatments – such as BOTOX® Cosmetic, soft tissue fillers, and laser services – Nancy complements our clinical team, comprised of myself and Sarah Safa, PA, in caring for our patients with excellence, compassion, and expertise. We are excited to have her on our team, and so are our patients."
In closing, Nancy notes, "It has been my pleasure becoming a valued member of the Parva Plastic Surgery team. I always strive to help men and women maintain a more youthful, refreshed, and natural appearance. Working alongside Dr. Parva each day to help our patients realize their goals is very gratifying and enjoyable."
About Nancy Neiderer, RN, BSN
Nancy earned her nursing degree from the Medical College of Virginia in 1986. Since then, she has actively worked as a Registered Nurse in several hospitals across the country. Nancy is skilled in a comprehensive assortment of non-surgical treatments, as well as pre- and postoperative patient care. She is available for a consultation upon request.
About Behzad Parva, MD
Dr. Parva earned his undergraduate degree from Westminster College and his medical degree from Temple University School of Medicine. He is certified by the American Board of Plastic Surgery, and he is an active member of the American Society of Plastic Surgeons, the American Society for Aesthetic Plastic Surgery, and several other medical organizations. He presently serves as Chief of Plastic Surgery at INOVA Loudoun Hospital. Dr. Parva is also available for interview upon request.
For more information, visit parvaplasticsurgery.com, plus.google.com/108633040038039769744/about, and facebook.com/parvaplasticsurgery.
Content:
Parva Plastic Surgery
224-D Cornwall Street Northwest
#300
Leesburg, VA 20176
(703) 777-7477
Rosemont Media
[email protected]
(858) 200-0044
www.rosemontmedia.com
Previous Post
Next Post