Can I Get a Tummy Tuck During My C-Section?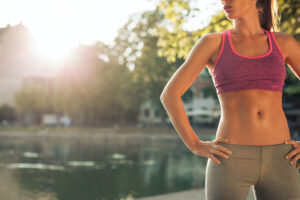 Pregnant mothers who are scheduled to deliver their baby via cesarean section may have concerns about how their abdomen will look after surgery. Since a tummy tuck (abdominoplasty) is intended to address changes caused by pregnancy and childbirth, it would seem that a c-section and tummy tuck could be performed during the same procedure. Sometimes referred to as a "C-tuck," this combination may sound ideal, only requiring one operation instead of two, but our board-certified plastic surgeon, Dr. Behzad Parva, advises against it.
C-sections and tummy tucks both come with risks, and combining these surgeries could increase a woman's potential for complications, including bleeding, infection and poor healing. In addition, Dr. Parva typically recommends patients wait at least six months after their delivery to consider a tummy tuck (or longer if breastfeeding). Women need ample time to recover from their pregnancy and delivery, and to focus on bonding with their newborn baby. Dr. Parva says this period also allows the abdominal skin to contract back to baseline and the individual to return to their pre-pregnancy weight. Undergoing a tummy tuck too soon after pregnancy can result in unsatisfactory results, since the body continues to change over the course of several months.
If you are considering a tummy tuck after your c-section, schedule a consultation with a board-certified plastic surgeon to learn if you are a good candidate.
Previous Post
Next Post