Leesburg Plastic Surgeon Optimizes Safety & Sanitation Protocols Amidst COVID-19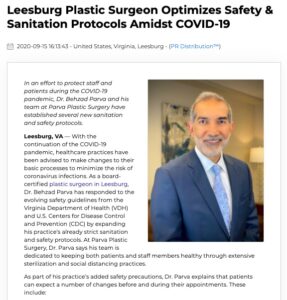 In an effort to protect staff and patients during the COVID-19 pandemic, Dr. Behzad Parva and his team at Parva Plastic Surgery have established several new sanitation and safety protocols.
Leesburg, VA — With the continuation of the COVID-19 pandemic, healthcare practices have been advised to make changes to their basic processes to minimize the risk of coronavirus infections. As a board-certified plastic surgeon in Leesburg, Dr. Behzad Parva has responded to the evolving safety guidelines from the Virginia Department of Health (VDH) and U.S. Centers for Disease Control and Prevention (CDC) by expanding his practice's already strict sanitation and safety protocols. At Parva Plastic Surgery, Dr. Parva says his team is dedicated to keeping both patients and staff members healthy through extensive sterilization and social distancing practices.
As part of his practice's added safety precautions, Dr. Parva explains that patients can expect a number of changes before and during their appointments. These include:
When a patient arrives for their appointment, they will need to remain in their car and call the office to check in. A staff member will ask them screening questions.
After the initial phone call screening, the patient will be invited to enter the office suite. They will be asked to wait at the front door so their temperature can be taken.
If patients have any flu or cold-like symptoms, they will be asked to reschedule their appointment for a later date.
Patients will need to wear a mask throughout their visit, making sure it adequately covers both their nose and mouth.
Dr. Parva requests that all patients come to their appointment without a guest, unless the patient is a minor, in which case one parent or guardian should accompany them.
Hand sanitizer is available throughout the office, and should be used when the patient first arrives at the office.
Parva Plastic Surgery has always made patients' health the top priority, but with the added risk of COVID-19, the staff says they have enlisted additional coronavirus preparedness measures to exceed the recommended safety protocols. By frequently disinfecting surfaces, limiting the number of people in the office at one time, and wearing personal protective equipment (PPE) during exams and procedures, they feel confident they can maintain a safe environment while helping patients move forward with their desired facial rejuvenation, breast enhancement, and body contouring procedures.
About Behzad Parva, MD
Before opening his private practice, Dr. Parva completed his medical degree from Temple University School of Medicine and his General Surgery Residency from Temple University Hospital. He then trained in a Plastic Surgery Residency at Indiana University Medical Center and Plastic Surgery Research Fellowship at the University of Pittsburgh. At Parva Plastic Surgery, Dr. Parva performs a wide range of cosmetic and reconstructive procedures, including breast reconstruction, tummy tuck surgery, liposuction, and more. To help him stay up-to-date with the latest advancements in plastic surgery, Dr. Parva is actively involved in several professional organizations, including the American Society of Plastic Surgeons and the American Society for Aesthetic Plastic Surgery. He is available for interview upon request.
To learn more, visit parvaplasticsurgery.com and facebook.com/parvaplasticsurgery.
Contact:
Parva Plastic Surgery
224-D Cornwall Street Northwest
#300
Leesburg, VA 20176
(703) 777-7477
Rosemont Media
(858) 200-0044
www.rosemontmedia.com
Previous Post
Next Post