Plastic Surgeon in Loudoun County, VA Details Recovery from Breast Lift Surgery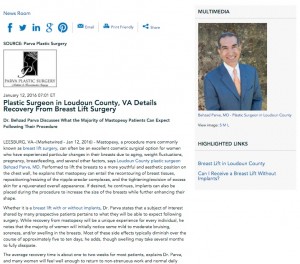 Dr. Behzad Parva discusses what the majority of mastopexy patients can expect following their procedure.
Leesburg, VA — Mastopexy, a procedure more commonly known as breast lift surgery, can often be an excellent cosmetic surgical option for women who have experienced particular changes in their breasts due to aging, weight fluctuations, pregnancy, breastfeeding, and several other factors, says Loudoun County plastic surgeon Behzad Parva, MD. Performed to lift the breasts to a more youthful and aesthetic position on the chest wall, he explains that mastopexy can entail the recontouring of breast tissues, repositioning/resizing of the nipple-areolar complexes, and the tightening/excision of excess skin for a rejuvenated overall appearance. If desired, he continues, implants can also be placed during the procedure to increase the size of the breasts while further enhancing their shape.
Whether it is a breast lift with or without implants, Dr. Parva states that a subject of interest shared by many prospective patients pertains to what they will be able to expect following surgery. While recovery from mastopexy will be a unique experience for every individual, he notes that the majority of women will initially notice some mild to moderate bruising, soreness, and/or swelling in the breasts. Most of these side effects typically diminish over the course of approximately five to ten days, he adds, though swelling may take several months to fully dissipate.
The average recovery time is about one to two weeks for most patients, explains Dr. Parva, and many women will feel well enough to return to non-strenuous work and normal daily routines within one to two weeks of surgery. Despite this, he says any rigorous and/or high-impact activities should be avoided for at least three to four weeks in order to help ensure breast tissues and incisions heal properly. During this time, patients are instructed to wear a supportive bra to facilitate the healing process and encourage optimal long-term results.
Over time, any possible scarring from breast lift surgery tends to fade gradually, often taking one to two years to reach its final appearance, states Dr. Parva. Scar reduction techniques such as silicone gel and gentle massage can often be employed to help lessen the visibility of mastopexy scarring, he reveals, and any scars that do form can typically be hidden underneath most blouse, bikini, and bra varieties.
Ultimately, Dr. Parva again stresses that recovery and downtime following mastopexy will be different for every person. For this reason, he advises that prospective breast lift patients seek the expertise of a board certified plastic surgeon who can comprehensively evaluate one's needs and desires in order to provide an individualized outline of what they may be able to expect after their procedure.
About Behzad Parva, MD
Dr. Parva earned his medical degree while graduating in the top 10% of his class at Temple University School of Medicine. He then went on to complete his General Surgery and Plastic Surgery Residencies at Temple University Hospital and Indiana University Medical Center, respectively. Certified by the American Board of Plastic Surgery, Dr. Parva maintains active membership in the American Society for Aesthetic Plastic Surgery, the American Society of Plastic Surgeons, and various other prestigious medical organizations. At his practice in Leesburg, VA, he offers an extensive span of aesthetic procedures for the breasts, body, and face, as well as multiple reconstructive options for the breasts. Dr. Parva is available for interview upon request.
For more information, visit parvaplasticsurgery.com, plus.google.com/108633040038039769744/about, and facebook.com/parvaplasticsurgery.
Contact:
Parva Plastic Surgery
224-D Cornwall Street Northwest
#300
Leesburg, VA 20176
(703) 777-7477
Rosemont Media
(858) 200-0044
www.rosemontmedia.com
Previous Post
Next Post