Plastic Surgeon in Virginia Explains When to Consider Breast Revision Surgery
Dr. Behzad Parva highlights several factors for which patients may consider breast revision surgery to achieve a more natural look and feel for their breasts.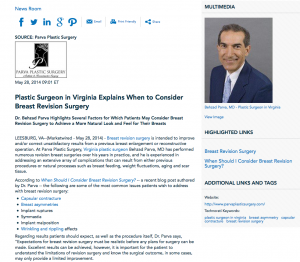 Leesburg, VA — Breast revision surgery is intended to improve and/or correct unsatisfactory results from a previous breast enlargement or reconstructive operation. At Parva Plastic Surgery, Virginia plastic surgeon Behzad Parva, MD has performed numerous revision breast surgeries over his years in practice, and he is experienced in addressing an extensive array of complications that can result from either previous procedures or natural processes such as breast feeding, weight fluctuations, aging and scar tissue.
According to When Should I Consider Breast Revision Surgery? – a recent blog post authored by Dr. Parva – the following are some of the most common issues patients wish to address with breast revision surgery:
Regarding results patients should expect, as well as the procedure itself, Dr. Parva says, "Expectations for breast revision surgery must be realistic before any plans for surgery can be made. Excellent results can be achieved, however, it is important for the patient to understand the limitations of revision surgery and know the surgical outcome, in some cases, may only provide a limited improvement.
"Breast implant revisions may be performed through a limited incision in the crease under the breast. However, many women will often need the breast shape and position to be modified, which requires revision of the breast, and other incisions may be required on the breast itself. The treatment plan must be individualized."
As the procedure is widely considered to be more difficult than primary breast surgeries, Dr. Parva stresses the importance of consulting with a qualified plastic surgeon:
"It is essential to consult with a board-certified plastic surgeon who specializes in breast revision surgery to assess your revision needs and goals. Breast revision surgeries tend to be more complex and will usually require more surgery time than the original surgery. Seek experienced counsel; understand achievable outcomes; and be realistic in your expectations."
About Behzad Parva, MD
Dr. Parva graduated Magna Cum Laude from Westminster College before earning his medical degree at Temple University School of Medicine. He is board-certified by the American Board of Plastic Surgery, and he actively remains a member of the American Society for Aesthetic Plastic Surgery and the American Society of Plastic Surgeons. Additionally, he is on the medical staff at several area hospitals including INOVA Fair Oaks Hospital, Reston Hospital and INOVA Loudoun Hospital where he presently serves as the Chief of Plastic Surgery. Dr. Parva is available for interview upon request.
For more information, visit parvaplasticsurgery.com, plus.google.com/108633040038039769744/about, and facebook.com/parvaplasticsurgery.
Contact:
Parva Plastic Surgery
224-D Cornwall Street Northwest
#300
Leesburg, VA 20176
(703) 777-7477
Rosemont Media
[email protected]
(858) 200-0044
www.rosemontmedia.com
Previous Post
Next Post