Virginia Plastic Surgeon Uses VECTRA® 3D Imaging to Simulate Patient Results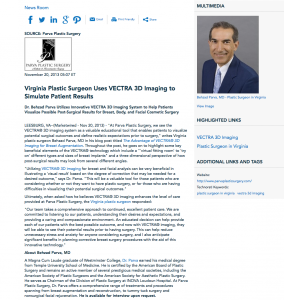 Dr. Behzad Parva utilizes innovative VECTRA® 3D imaging system to help patients visualize possible post-surgical results for breast, body, and facial cosmetic surgery.
Leesburg, VA — "At Parva Plastic Surgery, we see the VECTRA® 3D imaging system as a valuable educational tool that enables patients to visualize potential surgical outcomes and define realistic expectations prior to surgery," writes Virginia plastic surgeon Behzad Parva, MD in his blog post titled The Advantage of VECTRA® 3D Imaging for Breast Augmentation. Throughout the post, he goes on to highlight some key beneficial elements of the VECTRA® technology which include a "'virtual fitting room' to 'try on' different types and sizes of breast implants" and a three dimensional perspective of how post-surgical results may look from several different angles.
"Utilizing VECTRA® 3D imaging for breast and facial analysis can be very beneficial in illustrating a 'visual result' based on the degree of correction that may be needed for a desired outcome," says Dr. Parva. "This will be a valuable tool for those patients who are considering whether or not they want to have plastic surgery, or for those who are having difficulties in visualizing their potential surgical outcomes."
Ultimately, when asked how he believes VECTRA® 3D imaging enhances the level of care provided at Parva Plastic Surgery, the Virginia plastic surgeon responded:
"Our team takes a comprehensive approach to continued, excellent patient care. We are committed to listening to our patients, understanding their desires and expectations, and providing a caring and compassionate environment. An educated decision can help provide each of our patients with the best possible outcome, and now with VECTRA® imaging, they will be able to see their potential results prior to having surgery. This can help reduce unnecessary stress and anxiety for anyone considering surgery, and I also anticipate significant benefits in planning corrective breast surgery procedures with the aid of this innovative technology."
About Behzad Parva, MD
A Magna Cum Laude graduate of Westminster College, Dr. Parva earned his medical degree from Temple University School of Medicine. He is certified by the American Board of Plastic Surgery and remains an active member of several prestigious medical societies, including the American Society of Plastic Surgeons and the American Society for Aesthetic Plastic Surgery. He serves as Chairman of the Division of Plastic Surgery at INOVA Loudoun Hospital. At Parva Plastic Surgery, Dr. Parva offers a comprehensive range of treatments and procedures spanning from breast augmentation and reconstruction, to tummy tuck surgery and nonsurgical facial rejuvenation. He is available for interview upon request.
For more information about Dr. Parva and his Virginia plastic surgery practice, visit parvaplasticsurgery.com, plus.google.com/108633040038039769744/about, and facebook.com/parvaplasticsurgery.
Contact:
Parva Plastic Surgery
224-D Cornwall Street Northwest
#300
Leesburg, VA 20176
(703) 777-7477
Rosemont Media
[email protected]
(858) 200-0044
www.rosemontmedia.com
Previous Post
Next Post